Trapped Within the Museum
2001
.
.
sound and video installation
two monitors, colour, sound, 9 min. in loop
.
.
Two monitors are installed in the exhibition space. One of them shows a one minute long sequence from Torn Curtain (1966) by Alfred Hitchcock. Cut into nine shots of similar length, the sequence deals with a manhunt — fugitive and follower — within the precinct of an empty museum. Not a single word is uttered and footsteps alone are to be heard. The pursuer has been erased and there remains only the 'fugitive' who then becomes the only visitor in the museum //the museum visitor himself//.
The nine shots are assembled and displayed on the tv screen, as they would on a surveillance monitor. The second tv set shows close range sequences in which the character (the museum visitor) appears within the frame.
The sound of footsteps is heard throughout the exhibition space.
.
.
Deux moniteurs sont disposés dans l'espace d'exposition. Le premier présente un extrait d'1 minute du film Le Rideau déchiré (1966) d'Alfred Hitchcock, découpé en 9 plans de même durée : passage du « poursuivant-poursuivi » dans l'espace d'un musée vide, sans parole, où l'on peut seulement entendre des bruits de pas. Le « poursuivant » a été effacé, il ne reste plus que le « poursuivi » qui devient alors le seul visiteur du musée.
Les 9 plans sont montés et disposés sur le moniteur tels un écran de surveillance, tandis que le deuxième moniteur montre en gros plan les passages où le personnage apparaît dans le champ de la caméra.
Le son des pas est diffusé dans tout l'espace d'exposition.
.
.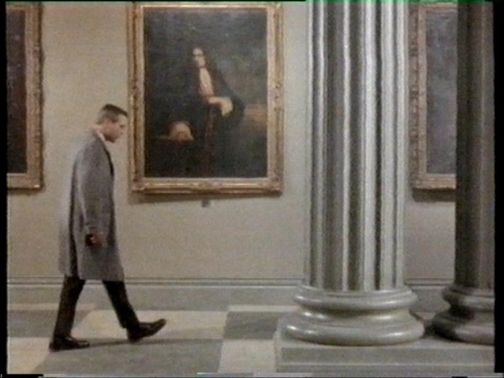 see VIDEO (extract)
.
.