Surprise! (Less Milk, More Cocoa)
August 2001
.
video installation
.
video
colour, sound, 9 min. in loop
sculpture
resin, acrylic paint, vinyl
220 x 160 x 140 cm
coproduction Espace 251 Nord, Liège (Be)
.
.
An attempt to influence American politics versus Africa, simultaneously confronting the world of childhood with economic reality and world trade.
The egg Kinder Surprise is enlarged and faces the screen. His motto (+ milk, - cocoa) has been reversed (-milk, + cocoa), so have his colour proportions (+orange, - white). The egg watches with amazement a bewitchment performance carried out by an African sorcerer on President George W. Bush in August 2001. The witchdoctor uses the President's official photography.
.
.
Tentative d'influence de la politique économique américaine envers l'Afrique et confrontation du monde de l'enfance avec la réalité économique et le commerce mondial.
L'œuf Kinder Surprise agrandi est face à l'écran. Son slogan (+ de lait, - de cacao) a été inversé (- de lait, + de cacao) ainsi que la proportion des couleurs (+ d'orange, - de blanc). L'œuf regarde étonné, une séance d'envoûtement du président Georges W. Bush, réalisée par un marabout africain en août 2001, un mois avant les attentats du 11 septembre. Le sorcier utilise la photographie officielle du président diffusée par l'Ambassade américaine.
.
.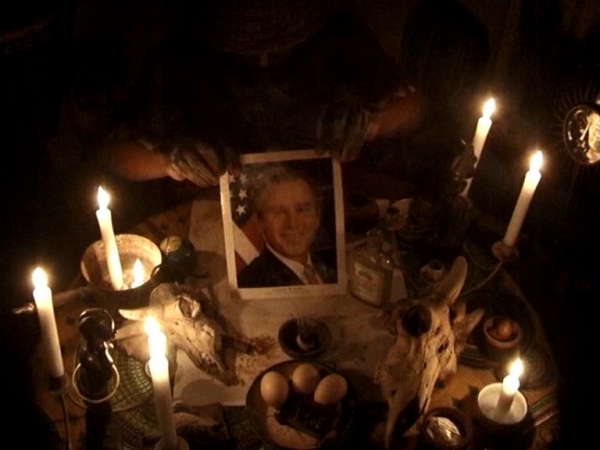 see VIDEO (extract)
.